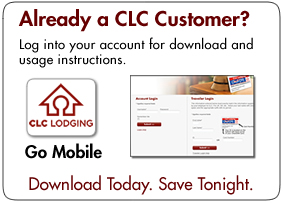 Go Mobile with CLC Lodging Workforce Lodging Solutions
CLC Lodging provides workforce travel solutions for companies both large and small. Join thousands of companies from small business, trucking, retail, staffing, energy, construction and rail industries that depend on CLC every day.
When you become a CLC customer, your workforce travelers can easily find hotels directly from their mobile phone with the CLC Lodging Hotel Locator for Android and iPhone®.
Plus, you'll enjoy these great benefits:
Save 20-40% off hotel rates for workforce travel
Gain data for easy tracking of lodging spend
Benefit from the purchasing power of more than 10 million room nights
Get rates lower than you typically can negotiate on your own
The CLC Lodging Hotel Locator is a private password-protected application that requires sign-up with CLC Lodging to access. If you're not a CLC Lodging customer, call us today at 1.866.857.9783 or Request More Information.